Domains
A domain is the address under which a website can be found – for example www.your-shop.com.
Domains always have a so called top-level domain. In the example above, ".com" is the top-level domain. There are many different top-level domains available for your shop.
Connect a domain to your shop
If you order a domain from Vilkas, we will take care of the technical settings automatically.
If you instead have your domain with another provider, you need to ask them to make the folloing settings for your domain.
The www address and the main domain need an A record to the IPv4 address 91.216.90.78
For the future, you can also make AAAA records to the IPv6 address 2001:678:2c4:11::7
If you are using email addresses with the domain to send messages from the shop, we also recommend adding a Sender Policy Framework (SPF) include "v=spf1 include:_spf.vilkas.shop ~all" for the domain.
Changes to the domain settings usually have a technical delay of 1-4h, so you always need to wait a little while. But after that you can add the domain to the shop settings in MyVilkas.
With more technical terms, these settings need to be added for the domain:
www.example.com. IN A 91.216.90.78
www.example.com. IN AAAA 2001:678:2c4:11::7
example.com. IN A 91.216.90.78
example.com. IN AAAA 2001:678:2c4:11::7
example.com. IN TXT "v=spf1 include:_spf.vilkas.shop ~all"
Add the domain in MyVilkas
Once the settings have been made for the domain, you can add it to your shop in MyVilkas and then the shop will start working with the new domain.
1. Log in to MyVilkas
2. From the Dashboard you click the name of your shop: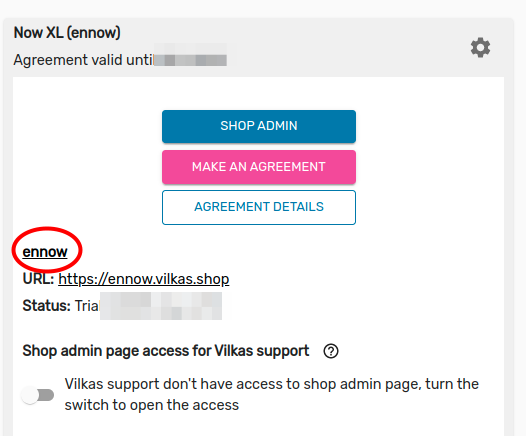 3. Then click the button "Domain settings" at the bottom of the page.
4. If you have ordered the domain from Vilkas, you can choose it from the list. If the domain is registered with another provider, select "Other domain registrar" and fill in the domain name in the field: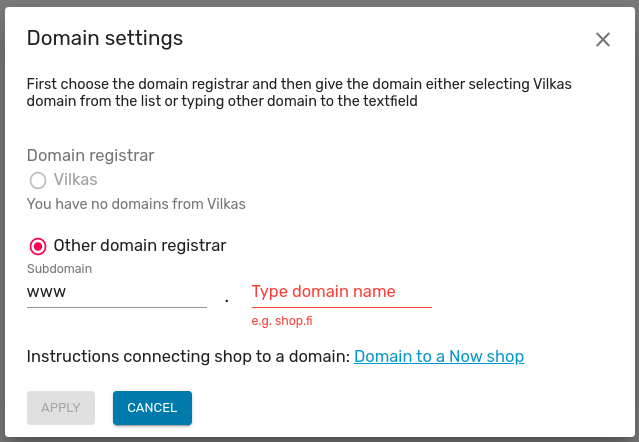 SSL certificate
When you change the domain for the shop in MyVilkas, a free SSL certificate is automatically created. It usually takes about half an hour to an hour (0.5 h - 1 h) for the certificate to start working. Before it works, browsers display a warning that the page is "not secure". More information can be found on the page SSL / TLS encryption of your shop.
We recommend that you use an own domain for your shop. Customers expect this nowadays, it is more trustworthy and it is also helpful in terms of search engine optimization.