Satisfaction Guarantee
We promise our customers a 100% satisfaction guarantee.
We want to offer our customers the perfect service, which is why we offer a satisfaction guarantee for our e-commerce system: if you are not satisfied with the functionality of our e-commerce system during the first 12 agreement months, you can get your money back. We keep our promises!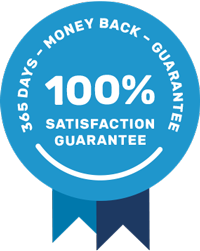 The satisfaction guarantee guarantees that
Vilkas' e-commerce system works flawlessly and your customers can always place orders
The e-commerce service is technically well optimised for search engines
Your shop is 100% secure
The Starter, Mini, Active and Pro shop levels have the features promised and the features are functioning
Delivery and payment methods are easy and quick to install and don't require technical knowledge - you do not need to struggle with installing services and Vilkas handles future updates of the services
Terms and restrictions
If you want your money back, we need a written complaint that describes the parts of our e-commerce service that you are not satisfied with. Once received we will try to solve or fix those parts within 60 days.
We are not responsible for the business idea's success or the economic success of the webshop.
The satisfaction guarantee is customer specific and valid for the customer's first webshop.
The satisfaction guarantee is valid for a maximum of one year from the day the shop was activated.
If the flaws in Vilkas' e-commerce system can be solved, the money will not be refunded.
The dissatisfaction with the software cannot have been caused by the misuse of the software.
The satisfaction guarantee is valid for webshops created after 01-12-2016.
Refers only to the monthly costs of Vilkas' e-commerce service that have been debited from the customer.
We are not responsible for errors or flaws caused by third-party systems (for example payment and logistics providers).
The search engine visibility is based on the merchant's own actions, the content and for example links from other sites. This is why we are not responsible for getting the shop amongst the search engines' top search results.