On the Design > My Styles page is a list of all the styles created for your shop. At the top of the list is the style that is currently in use, the "Active style". You can edit all the other styles without it effecting the active style. This makes it possible to try new ideas without actually showing it to your customers. You click the links "Start quick design" or "Start advanced design" to get to the design tool for the different styles. You can see what the style would actually look like in your shop by clicking the link "View of Web site".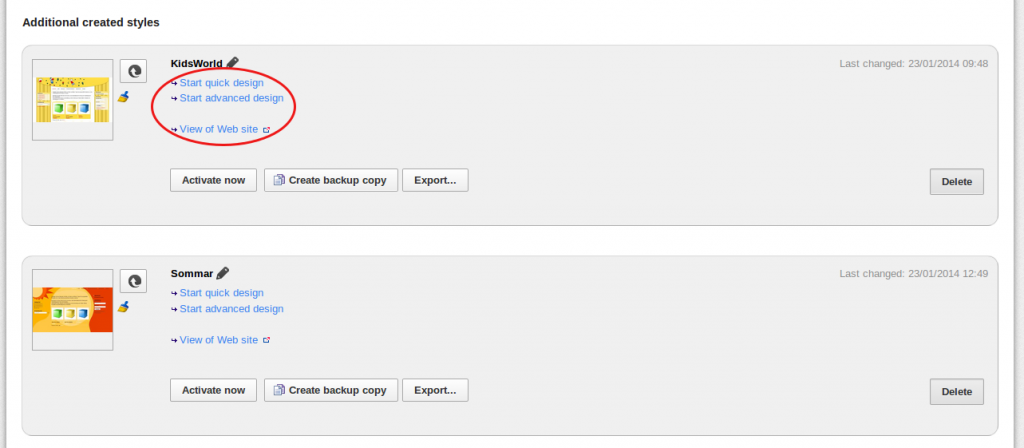 Note! If you first click the "Start quick design" and then move to the advanced design page by using the menu at the top you will be back at your active design. You must always use the links from the "My Styles" page to avoid making changes in your active style.
By creating a back up copy you can be sure that you can change back if something would go wrong. You create a copy by clicking the "Create backup copy" button.
Tip! If you create two back up copies you can use one to try out new ideas and the other would be an actual back up copy incase you would accidentaly forget to use the links and instead make changes to your active style. Then you can always be sure you can change back by activating the back up copy.
When you are happy with your new style and want to implement it in your live shop you just click the "Activate now" button, then this will become your active style and your previous style will end up at the bottom of the list.
Export and import styles
You can export a style if you for example want to import it to another shop. During export, the files are compressed and saved in a file of the type .style. A log is displayed. This lists which page elements, pages, and functions must exist on the target system in order to import the style successfully. Save the log and check before the import whether all requirements are filled for successful import.
The imported style will be shown as a new entry in the list. After the import, a log is shown. Here information about problems are shown which occurred during import. If this information is present, check the design and correct the errors manually.
Edit page elements
User-defined page elements contain text fields in which you can also enter HTML code. If the code is not correct, this can lead to your page no longer functioning in design mode or that the elements are invisible. Use the safe mode by clicking the link "Edit page elements" in the style to always have access to your user-defined page elements. You can edit or delete page elements here at any time.