PayEx offers a complete solution for payments all over Europe. Many of PayEx's service also work globally. Read more about PayEx here.
Use PayEx in your shop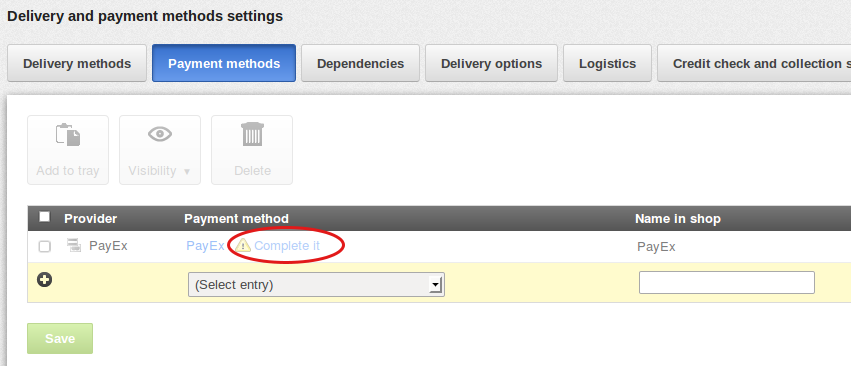 To start using PayEx as a payment method you first need an agreement with PayEx. More information about this can be found on www.payex.com or by calling +46 498 20 20 00.
Create the payment method on the Settings > Delivery and payment > Payment methods page.
Choose the payment method as "PayEx" from the drop down menu.
Click "Save".
Open the payment method by clicking "Complete it" (see picture above, the link opens the Setting pages) and fill out the user details and the currencies you use. Before you offer the payment method to your customers it might be worth doing a test payment to confirm that the settings are correct. You can set the operational mode to "Test" on the Settings page.
Check the Advanced settings. Choose only the payment methods you have agreed on with PayEx. If you choose other payment methods the payment in the shop will not succeed.
Test
You can test paying with PayEx by following these instructions.
On the Settings page you set the operational mode to "Test".
On the Advanced settings page you choose the "Direct Debit" as Payment method view.
Choose Yes for the banks you can use in the test.
Set the payment method as visible on the General page (Visible - Yes).
Test making a payment with PayEx in your shop.
Show the payment method logos in the shop
PayEx does not offer automatic logos, they have to be added manually. Once you have an agreement with PayEx on which mehtods you can use, you should retrieve the logos from those payment providers' websites.