Checkout is a payment solution that allows you to receive payments in your shop via all Finnish internet banks and credit cards in the same agreement. As our customer you do not need to pay any start up or monthly fees to Checkout. Instead you pay a provision of 3% from the total sum of each order, with a maximum of 5€/order and 100€/month. In addition to the provision you also pay a fixed cost of 0.35€/order.
Notice!
If you use PayPal through Checkout payment service then the payment status changes after the order do not come automatically to the shop. Because with this payment method the money does not go through Checkout service, they can not know if the payment has been done after the order. It is recommended that you use direct PayPal integration instead. Here is the support page:
https://www.vilkasgroup.com/support/paypal
Add Checkout in your shop
Open the Settings > Delivery and payment > Payment methods page and choose "Checkout" as the "Payment method" then click "Save". The payment method is then added to the list.
Click the link "Complete it" next to the name to fill out the settings.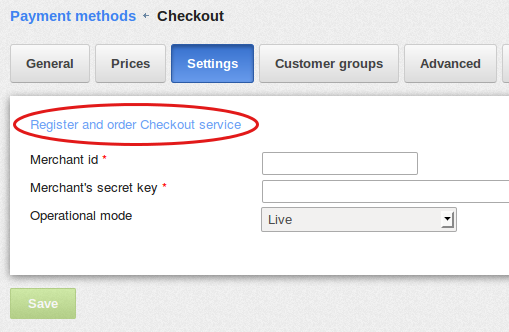 By clicking the link "Register and order Checkout service" you get to the registration form.
Fill out the shop details and click "Send registration". When Checkout has processed your registration you will receive the "Merchant id" and "Merchant's secret key" automatically into the existing fields.
Add the payment method logo in the shop
Add the payment method logo on the Design > Advanced design page by clicking "Insert page element". Choose Payment > "Logos for accepted credit cards (Checkout)" and click "Insert".
Note! The logos are showed as standard horisontally. You can change this by logging in to the Checkout service.
Read more about the service on checkout.fi (in Finnish).